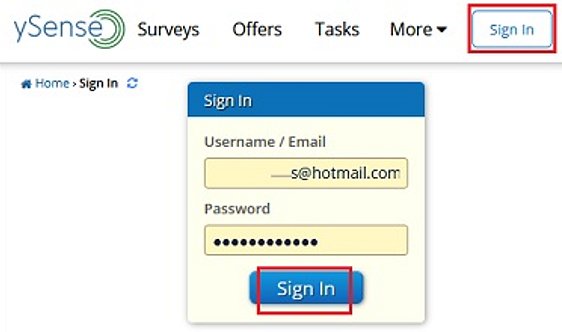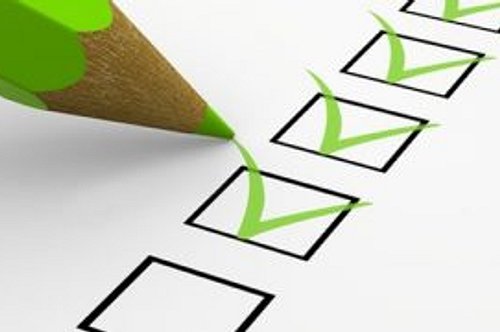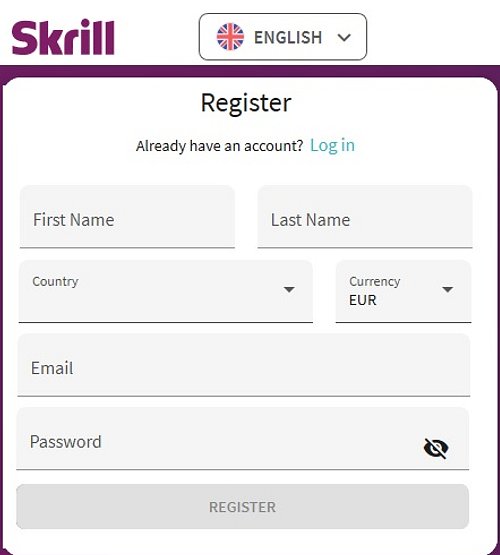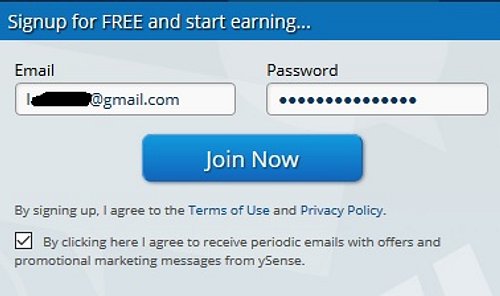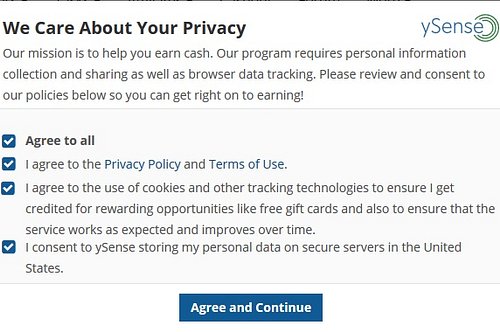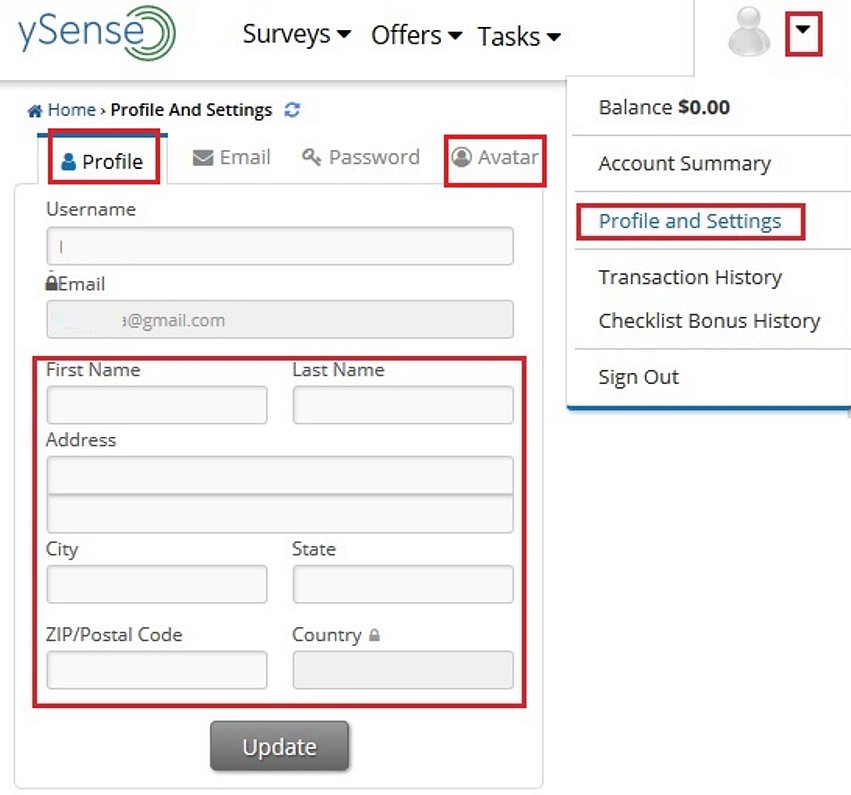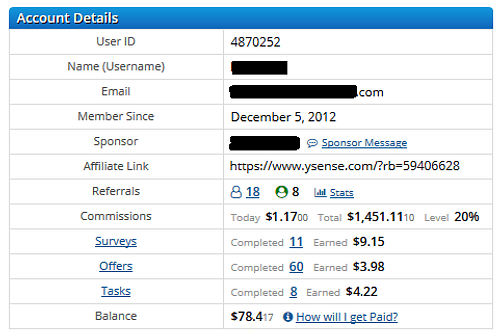 Surveys
Answering surveys is where you earn the most. Here you will find best survey sites together. You can find them directly in the top menu "Surveys" and on the main screen. When you enter the first time, it asks you to choose your preferences. You must indicate if you want to receive surveys adapted to mobile and tablet (indicated when you connect from these devices), and if you want to receive invitations in your email to participate in new surveys. The emails you receive will come from the indicated address (surveys @ clixsense.com), so you must make sure that it's not blocked as spam.
There are usually 5 companies that carry out surveys for money, although occasionally there are some more. As you can see in the following image, the amounts they pay for each survey are not bad. The surveys are in the language of your country. You can login multiple times in a day so that you don't miss any paid survey. Complete a survey as soon as you find it.
If you want to be chosen to be able to fill out the survey, you must overcome some "elimination" questions, since the editors look for a specific person profile to answer the survey. In Below we will explain
Tips and Tricks to answer paid surveys
We're going to explain some tips and tricks to answer paid surveys well, so that you can answer more, and finish them successfully. On this you can find many surveys for money and well paid. Take a look at our guide on how to easily register in our post "Sign up ySense".
Those who advertise and do surveys want your opinion on their products or future product launches. They usually look for people who can buy these products, or use their services. So you should give them this impression, and they will let you participate in the survey.
For example, if a car company prepares a new model and wants to do a survey to find out color preferences, shape, etc., you can't say you are poor and out of work. Most likely, they will not let you participate because you are not their buyer profile. Another example, if a pharmaceutical company prepares a new drug, but you tell them that you are in good shape and that you don't have any problems, then they won't let you participate in the survey either.
After answering quite a few surveys, we've seen that there are a number of "killer" questions that you can easily get around: (but it is up to you to create the "buyer profile" that you think is most appropriate)
Work: You must answer that you have a full-time job. So they will see that you have money to buy their products.
Studies: You indicate that you have medium-high studies. Advertisers don't look for illiterates to know their opinion.
Income: You must indicate that you earn money. We always put a medium-high salary (gross or before taxes, it amounts 75,000 to 95,000). This is a little bit linked to age and education level (if you indicate that you are 18 years old and don't have a high school diploma, you might get caught and not be allowed to finish the survey, and you won't earn money from it)
Marital status: It is almost always advisable to say that we are married with some children. This is because some advertising companies look for the opinion of products for children, or travel as a couple, etc.).
Duplicate questions: Sometimes they ask you the year of birth and later how old you are (obviously it must be consistent). There are also cases where they ask for the zip code (or post code) and later they ask for the province or region.
Specific questions: Sometimes the eliminatory questions are on a specific topic. For example, the case of a pharmaceutical company that created a device that injects insulin. The eliminatory question is whether we have a disease, among several options (including the correct one). Without fear we mark that we suffer almost all diseases, and thus we overcome the eliminatory question.
Once the survey is finished, you will return to the ySense main page, and they will ask you if you have been able to finish the survey. You must answer the truth, because they can prove it.
Last thing to know is Never give negative or bad comments about any brand or product.
Some examples that can help you qualify for survey :
Are you the primary decision maker of your house hold? Always Answer "YES"
Do you buy grocery for your house? Always answer" YES"
Do you or someone in your household work in these Industry? Always answer "NONE OF THE ABOVE" or "OTHER"
Did you participate in any market related survey in this month? Always answer"NO"
Have you take any flight in last 12 months? Always answer"YES"
Have you watched TV Yesterday? Always answer"YES" (But don't select too many TV shows)
There is another trick that works very well:
We've often found that we've been kicked out of all paid surveys (we've not passed the elimination questions, or they simply already had many people with the same profile). So the problem is that we haven't been able to answer any of the ones offered. If that happens to you, there are several things you can do:
– Use another internet browser to access the ySense website. Install three browsers (all free) on your PC: "Internet Explorer", "Google Chrome", and "Mozilla Firefox". The trick is to always use a regular browser, and if you get kicked out of a survey, you exit ySense and close your usual browser. Then open another browser, and this time when answering paid surveys, make sure you don't make the same mistake, i.e. check different answers.

– Another thing you can do: If you have not been able to complete the surveys with any browser, you can repeat some of them by clearing cookies and browser history, and restarting your computer.
Tasks are a bunch of little jobs or mini-tasks, which you can solve right or wrong. They are only in English, but are very simple and you can use an online translator if you want.
When you do a task, first you have to do 2 or 3 as a test, so that you understand how that specific task works. Once you have passed the test mode, you are going to collect earnings for each one.
There are some very quick tasks to solve and others not so much (these pay better).
An example: "Help us validate Authors and Articles" (They give you an author name and a website link, and you must validate that the article is written / signed by this author).
Another example: Which Tags Don't Apply to These Businesses
That's one is also easy, you must visit business website or Google result, and see what the business does in order to classify it. For example a fast food restaurant, we must check which label does not belong to it ("restaurant", "fast food", "fish shop"). In this case it would be the last one. As you can see in this simple task, it's only a matter of analyzing and reading all the possible labels and select the correct one.
Here we show you an example of tasks. You can get paid 2 cents to 50 cents for completing micro tasks:
You can also earn more money if you participate in promotions offered by companies associated with ySense. There are various Offers: smartphone Apps, sign up in some websites, watch videos, etc. All of them are in the "Offers" menu. You will find Cash Offers when you click on each company. You can get paid 5 cents to $50 cents or even more for completing each offer.
That's all, easy isn't it? Now you are ready to earn money. How? Doing homework and surveys. If you want to learn how to do it, Below the post "How to use ySense"
We explain how to use ySense, a serious website to make money. You enter by clicking on the "Sign In" menu if you are already registered: Enter your username and your password.
Once registered, you must complete your profile data. To do this, open the top menu and choose "Profile and Settings". You must fill out the first tab of "Profile" and optionally "Avatar" tab (to put an image on your profile), and "Options" tab (check if you want to receive emails, warning you with possible surveys to be carried out).
To finish, as I said before, a notice will appear indicating that you must confirm email that has been sent to your address, to verify the sign up process. You must confirm this email you have received, to activate your account and be able to earn money.
After first step you must accept ySense's privacy policy by clicking on all checkboxes and the
"Agree and Continue" button.
2.- Then you must register on the ySense WEB, which will be the one that will pay you money. The idea is to earn money by answering surveys (of all kinds: beauty, health, etc.) or classify some commercial website (rate it, find addresses, etc).
Sign up process is very simple, just choose an email and a password, and click the "Join Now" button. Remember to use a correct email address, as you will receive an email asking you to confirm your registration.
ySense was formerly known as ClixSense (On Aug 01, 2019, they changed the site name from ClixSense.com to ySense.com)
ySense is a company based in California with a great reputation among this type of programs, probably the best known on the Internet. It started as a PTC (pay to click) page, that is to say, it was basically a pay-per-view page. However, in 2017 it became a website where this task was eliminated and the ySense staff focused on pay-per-task, surveys and micro-works. So it became what it's called a GPT (Get-Paid-To) site. In addition, ySense recovered the PayPal payment method.

ySense team have been operating since February 2007 and have always paid their users quickly and efficiently, something that many others cannot boast about. In fact there are many copycat sites that are considered scam and you should avoid like the plague.

More than 6 million members have received an approximate amount of 40.000.000 dollars.
ySense support its user for free registration for almost all countries in the world.
How Much Money Can I Earn?
I can't say the exact amount that you can make from ySense but one thing I can say is,
You can easily earn $3 – $15 daily by working on ySence for 1 – 3 hours without any investment.
There are several ways to earn on ySense and it totally depends on you and how you are going to use those methods.
ySense is an online community with multiple earning options. Start earning with paid online surveys, cash offers, & figure eight tasks.
Best of all, you don't have to spend money! ySense is absolutely free. You do not have to pay a single time for registering or making money.
The sign up process is very simple. There only will be 2 steps:
1.- First of all, you should have a place where you can collect your earnings, in other words, a place where they will pay you all the money that you achieve. I personally recommend the SKRILL site. Here you will be able to create a free account.
You can access the Skrill website and create an account by clicking on the "Register" button. Choose the country and create a personal account, and enter your data (they must be real, to transfer the money later to your bank account). Once the account is created you will have a balance of "0". Your Skrill account will be identified by the email you gave when you sign up.
How to Withdraw Your ySense Earnings
There are several methods of withdrawing money on ysense. We recommend Skrill, a great online payment processor; or if you have a PayPal account then you can withdraw your earning through them. You can also request for a gift card. You can find all the options when you click on Cashout option
.
Earn money playing games on ySense
New ySense Offer!
Like playing games? What if you got paid
$20.00 to play?
Get Paid to Play
To earn a fun and friendly $20.00 with
Rise of Kingdoms:
1. First you must sign up to ySense
2. Click on the ySense Offers Section Menu

3. Download and open Rise of Kingdoms on Apple or Android devices

4. Reach Level 18 to earn your $20.00 reward!

5. Important Note: You must be a NEW user to the
app
Note: : It can take up to 7 days for your $20.00 to be credited to
your ySense account.
You must complete ALL of the steps above to earn your reward
ySense is an online community with multiple earning options. Start earning with paid online surveys, cash offers, & figure eight tasks. Best of all, you don't have to spend money !
Main screen shows us several things: In the first section "Account details" you can see the detail of your account: how much have you earned (Total Balance) , how many tasks, offers, and surveys have you done, etc.